Landscaping for "Laklinyeri Beach House"
We were proud to partner with the Women's and Children's Hospital Foundation to design and construct the landscaping to compliment a holiday home for terminally ill children and their families.  Our brief was to include various zones of garden spaces that could be enjoyed by both children and adults, especially catering for special needs children and wheel chairs. The area was not to feel like a clinical, commercial space and needed to include many different sensory elements. The foundation was keen to have each of the zones as individual, separate areas but linked together with a common theme.
The landscaping includes 4 main areas including a central courtyard which was designed to be the main play space as it can be viewed from all areas of the home. The front courtyard includes a bike track which is securely fenced due to its close proximity to the road. The eastern side of the home includes a parent's reflection space along with the disabled compliant ramp to the water side. On the water side of the home we adjusted the levels of the site to create a large terraced zone to cater for many different activities.  A variety of mood lighting was used throughout the whole design, run off of several zones with day/night sensors and switches.
Central Courtyard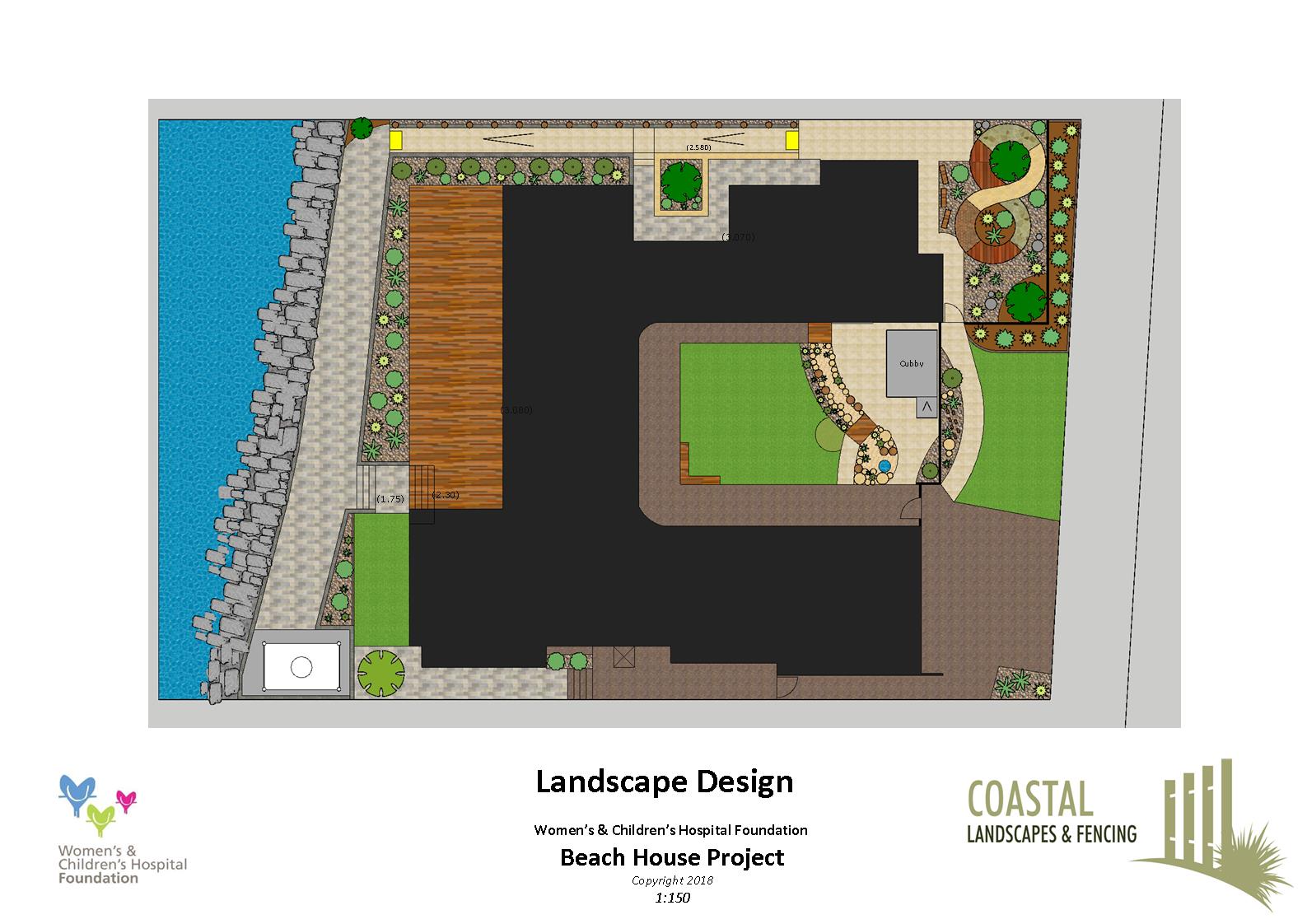 Dry creek bed with easily accessible hand water pump facilitating water-play without a deep pond for safety reasons

Boardwalk and bridge over the creek bed for both able bodied and mobility impaired children to enjoy

Low maintenance planting and non-artificial turf with a sophisticated irrigation system

Wheelchair accessible cubby

Easily accessible music wall

Strategically placed umbrella sleeves
Front Courtyard
Multi finished figure 8 bike track built from salvaged local materials

Custom made stepping log benches

Locally sourced large granite boulder

All these inclusions were used to create a sensory experience for children

Spotted gum hardwood fencing with key lock gates to create both a safe and an aesthetically pleasing front facade
Eastern Courtyard
Coastal themed rope and bollard handrail

Limestone block garden wall to create both seating and planting spaces for a large Crepe Myrtle off of the main bedroom to create a zone for parents

Ramp constructed to meet with the disability code requirements and solid paths to accommodate wheelchairs

Inclusions in this area maximised the small usable space
Water Side
Series of block walls of which one is built directly on the lakefront to create a terraced zone which includes a large seating area.  The terraced walling created level areas and maximised the potential usable space of the land

Deciduous tree and low maintenance plantings and a series of large pots

Waterfront compliant fencing

The high quality choice of pavers used throughout is shown to its full potential in this area

Incorporation of steps to tie in with the builder's decking